DISCOVER LE PUY-EN-VELAY AND ITS MAIN ILLUMINATED MONUMENTS
LIVE THE INCREDIBLE EXPERIENCE OF THE "PUY DE LUMIÈRES" SHOW !
Since 2017, the Puy en Velay has been providing a bright experience to all the regulars of the place, the Ponots but also to all the visitors one evening who stroll through the alleys of the city...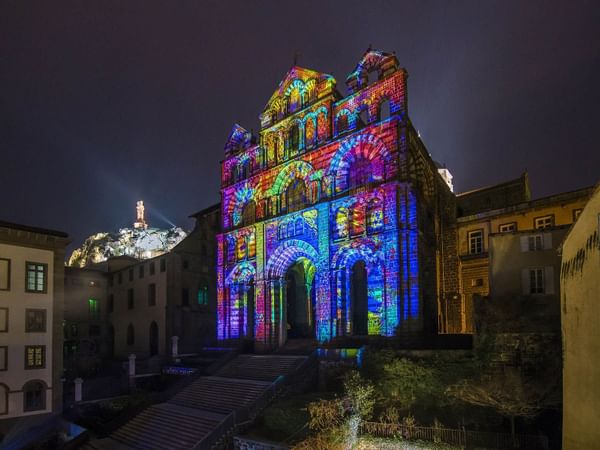 In front of you, the show is grandiose, lose yourself in the fabulous Henri Vinay garden, where the Crozatier museum is enthroned, climb the endless steps of the Notre Dame du Puy en Velay Cathedral, branch off to the Plot square without forgetting the magnificent Saint Michel Rock and its Saint-Michel d'Aiguilhe chapel, a hook by the Town Hall then zoom on the Theater registered with the inventory of the Historic buildings, move away towards the Saint-Alexis chapel then the Media library of Brives-Charensac and finish by the edges of the Loire and the Old Bridge of Brives-Charensac.
Here is the inventory of the beautiful monuments highlighted at nightfall, free show for adults and children, the Puy en Velay offers you the opportunity to dream with your eyes open!
Book your "Puy de Lumière" stay in our hotel The Originals City, Hotel Bristol, ideally located 200 meters from the first scenography.
Photo credit: ©Luc Olivier et ©Le Puy en Velay Tourisme