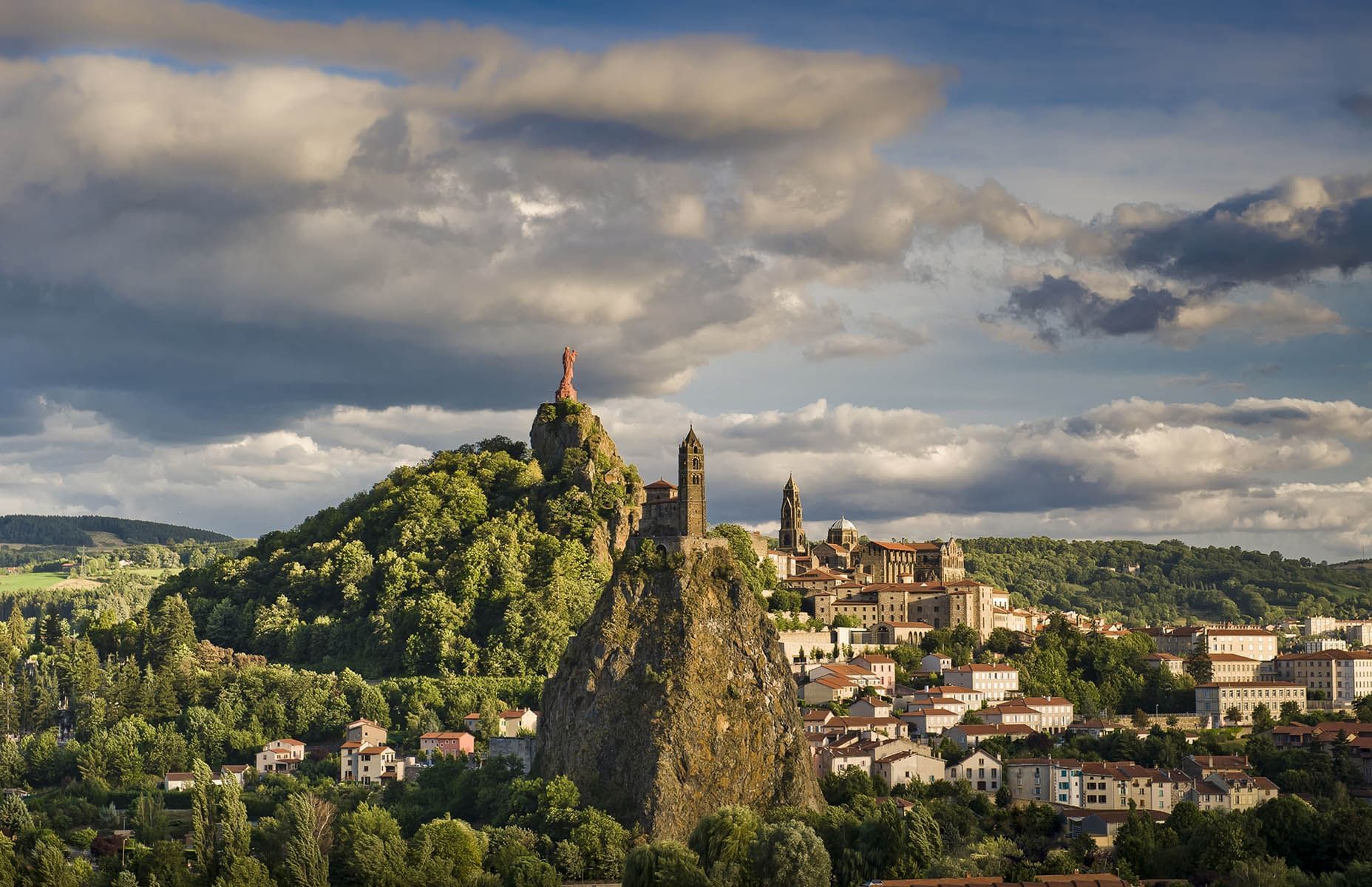 Discover everything that's great about Le Puy-en-Velay and its UNESCO-listed heritage
A stunning location on the route towards Santiago de Compostela
The city of Le Puy-en-Velay is famous for its green lentils, Verveine du Velay liqueur, bobbin lace and exquisite architecture – all set against a backdrop of equally stunning countryside.

The city, which sits to the south-east of the Massif Central mountain range, has been a key destination for pilgrims since the Middle Ages. It is the starting point on the famous Via Podiensis, one of Europe's main pilgrimage routes towards Santiago de Compostela in Spain. The city boasts cultural and spiritual heritage in abundance, such as Le Puy Cathedral, a 12th-century Romanesque masterpiece and a listed UNESCO World Heritage site. Other notable sites include the statue of Notre-Dame-de-France, a 19th-century cast-iron piece by the sculptor Bonnassieux that stands at 757m on the Corneille rock overlooking the city, and the Chapel of Saint-Michel d'Aiguilhe, built on a former volcano in 961.
The city is also home to various attractions that give visitors an insight into the history and heritage of the former French province of Velay, including the Crozatier Museum in the picturesque Henri Vinay gardens, and the Bobbin Lace Educational Centre, which runs highly instructive lace-making lessons.
Aside from a wealth of monuments and cultural attractions, Le Puy-en-Velay, formerly known as Anicum, is also home to many squares and fountains, alongside pretty cobbled streets – all which give it an irresistible charm. Le Puy de Lumières and the Fête Renaissance du Roi de l'Oiseau are two unmissable events in the annual calendar that really show off this incredible city in its best light!
If you're looking for ideas for things to see or do during your stay in Le Puy-en-Velay, speak to the hotel team. They'll be only too happy to help!